6 Beethoven
Ms McGreal is the teacher in 6 Beethoven and Mr Evans is the teaching assistant.
Year 6 Autumn 1 Curriculum Overview
Year 6 Autumn 2 Curriculum Overview
Year 6 Spring 1 Curriculum Overview
Autumn Half Term 2
In the second autumn half term, Year 6 have been analysing and constructing their own non-fiction explanation and information texts in English. This has included writing our own academic article on the origins of World War II through to redrafting our version of Winston Churchill's famous speech, The Few, which he delivered during the Battle of Britain. We also built model Anderson Shelters and wrote our own comprehensive, step-by-step instruction guide for others to follow. Other cross-curricular topics included using our knowledge of how light behaves from our Science lessons to design our own electronic information booklet on periscopes. Furthermore, we have been able to contextualise our Maths knowledge through applying our learning in Real Life Maths, where we had to break the German Enigma encryption using our BIDMAS skills to decipher coded messages about Luftwaffe targets on the South Coast of England. We also answered Churchill's call and assisted the government in recalculating their wartime ration allocations using our knowledge of fractions, and we provided critical calculations to aid the Dunkirk sea rescue of Operation Dynamo. To contextualise this fully, we had a WWII dress-up day, where we dressed and acted as evacuees. Lastly, we have been rehearsing for our digital acting debuts for our class festive production, including green screen special effects! We can't wait for you to see it! Bah humbug!!!
Autumn Half Term 1
Year 6 have been studying Goodnight Mister Tom in English which has been contextualised in History in their topic, A Child's War. Children have role played as evacuees, just like William Beech in our novel, and looked at what life was like for children in wartime Britain.
In Science, they have and will continue to cover Light. They have already completed experiments involving refraction, convex and concave lenses and made periscopes.
Painting was the skill of choice for Art this half term and the children completed some superb artwork using Picasso and Patrick Heron as stimuli.
See below for our class displays and some amazing examples of the work we have been doing this half term.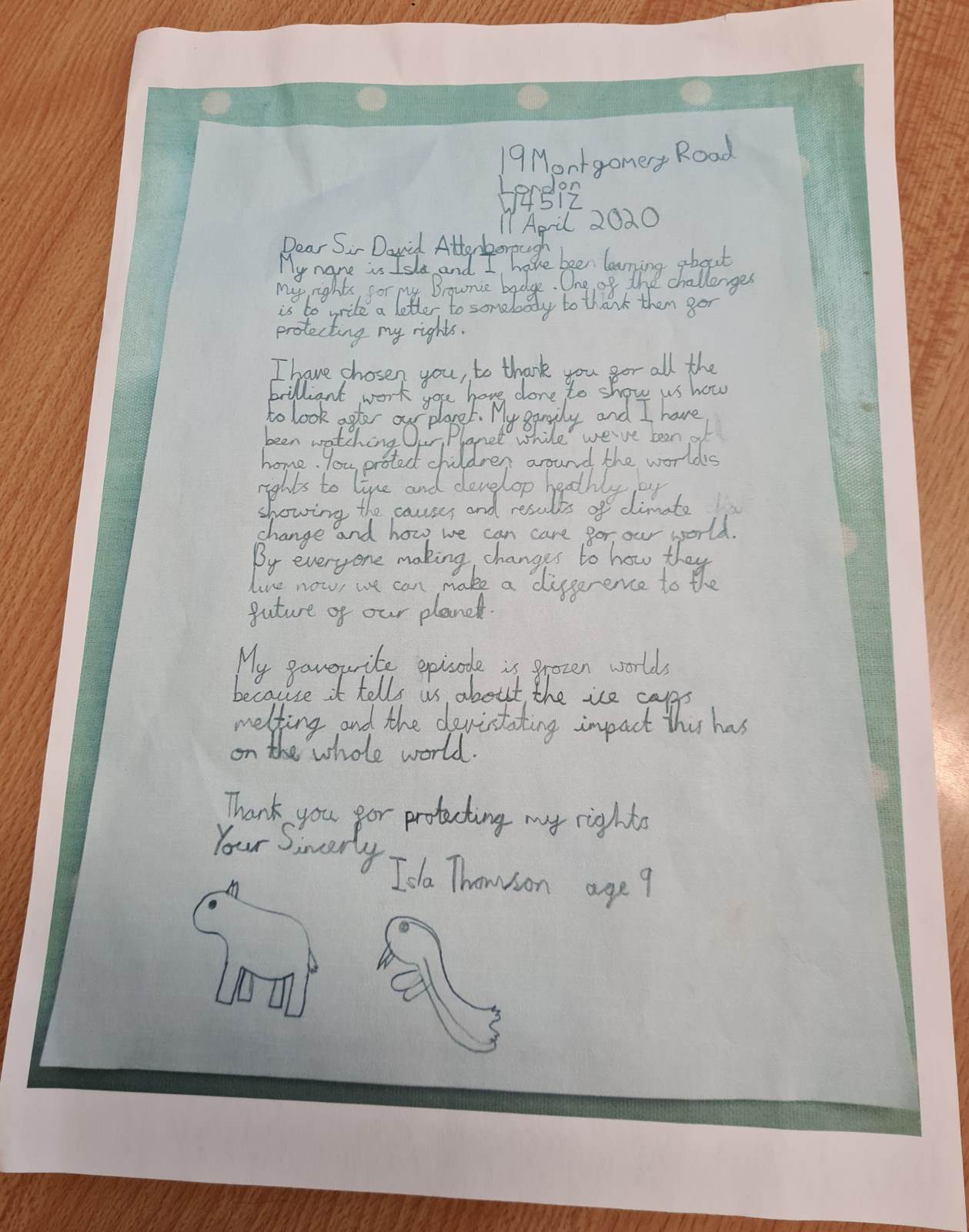 Isla, our classmate, wrote an impassioned letter to Sir David Attenborough to show the thanks for his endless work around climate change and preventing the deterioration of our environment. Unbelievably, she received a personal response from the renowned naturalist himself.